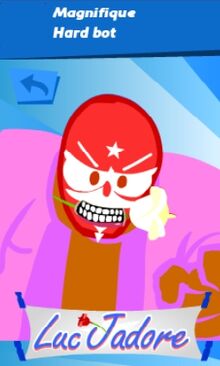 The character Luc J'adore. He is unlocked by reaching level 10.
His name is a play on words; Luc J'adore is a close homonym for luchador, a type of Mexican wrestler. This is also represented by his aggressive demeanor. J'adore is French for 'I love it', and hints at a romantic disposition, as well as explains the rose and his winking at the camera once winning a round. 
Ad blocker interference detected!
Wikia is a free-to-use site that makes money from advertising. We have a modified experience for viewers using ad blockers

Wikia is not accessible if you've made further modifications. Remove the custom ad blocker rule(s) and the page will load as expected.